Romans 6:23
23 For the wages of sin is death, but the gift of God is eternal life in Christ Jesus our Lord.
[Narrative]
When I was growing up, I heard stories about you. We were born around the same day in a small town called Bethlehem. I didn't know it then as an infant, but I heard that you were delivered and placed in a manger because there was no room in the inn. My parents remembered the townspeople chattering about your birth, "The Savior of the world has come; his name is Immanuel." How can that be? You were just a helpless baby – crying in a trough to be exact.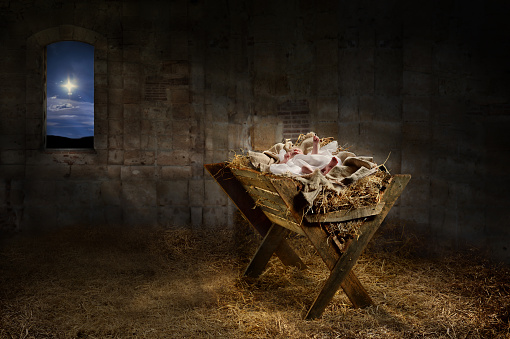 I didn't think you noticed me or even knew my name. You paused…and looked right at me when you were preaching at the temple. Did you know that I had just stolen food and money? Did my nervous energy give it away? Surely that's the reason! Your eyes were strong, piercing, yet compassionate. At the same time, I heard a dark voice in my head slithering phrases into my conscious: "Who does he think he is? Don't listen to him! You are filthy and can never be freed from your guilt." Your eyes spoke of a different story. I've heard many teachers, prophets, and religious leaders speak as I walked around the temple looking for something to steal to be frank, but you sounded…different. Yet, the voices convinced me to turn around and walk way. It was easier to continue my life as a thief.
Is that you? I see you coming. Through blood-soaked tears and painful muscle spasms contracting every connective fascia in my body, I see you carrying that cross. What did you do? I've watched you over the years, from a distance of course, and I've only seen you preach, teach, deliver, and perform miracles. What crime did you commit? What could you have done to receive this type of punishment? I know my sins equal my punishment, but truly what have you done? Why are they nailing you to this cross? I want to feel rage, but I know my crimes. How can you offer forgiveness when they are killing you? Yet, I'm not surprised as this rings true to your character. Seeing you offer forgiveness, love, and zero retaliation began to change my heart. At that time, I couldn't stand to listen to the insults any longer. You ARE the Messiah and our Immanuel. You don't deserve this punishment like I do, but please remember me when you come into Your kingdom. Then you said, "Truly I say to you, today you will be with Me in Paradise." [Luke 23:43]
---
Listen dear child, the unlikely gift this Christmas season is the free gift of Jesus, which brings salvation, wholeness, freedom, healing, restoration, peace, forgiveness, and deliverance. Please do not let the true meaning of this season become overshadowed by worldly presents, trees, and lights. Even while his flesh was dying, Jesus was still in the business of saving lives! Yes, the baby in the manger changes everything, but you still have to accept Him. The two thieves on the cross are truly the perfect example! Jesus did not turn to the other thief and condemn him or harass him for his unbelief and insults. Sadly, Jesus knew where that man would spend eternity, but He did not force Himself upon him even as the other thief was dying. What a lesson!
Do not wait for a deathbed confession! Today is the day for salvation. No matter how old you are, what you've done, or how "bad" you "think" you are, Jesus is MORE than able! However, no matter where you are in your life: young, old, or truly in a season of death and dying, Jesus can restore your soul in an instant; you simply have to accept.
~Do you need peace? JESUS
~Do you need healing? JESUS
~Do you need restoration? JESUS
~Do you need joy? JESUS
~Do you need fulfillment? JESUS
~Do you need deliverance? JESUS
~Do you need clarity? JESUS
~Do you need freedom? JESUS
~Do you need salvation? JESUS
Question: Will you accept this unlikely gift? One that offers you EVERYTHING by accepting, repenting, and confessing.
Gift: "You will be with Me in Paradise."
Bible Bible Study Celebration Christianity Church Community Courage Daily Devotion Devotion Faith Focus Friends Friendship Glory God Gossip Grace Heart Holy Spirit Hurt Jesus Joy Lies LIfe light Love Mercy Miracle Path Peace Prayer Promises Protection Provider Reflection Religion Shelter Spirit Spiritual Warfare Storms thoughts Truth Victory Words worry
Thankful,
Christian Armetta